Save the date!
Op zaterdag 13 november 2021 houden we weer eens een keer een outlet / open dag bij Stickerland / The Wrapfactory.
We hebben een enorme collectie wrapfolie liggen dat we via onze outlet verkopen. Dus alleen op deze dag met een mega-korting en op = op. (alleen de maten en kleuren beschikbaar in de outlet).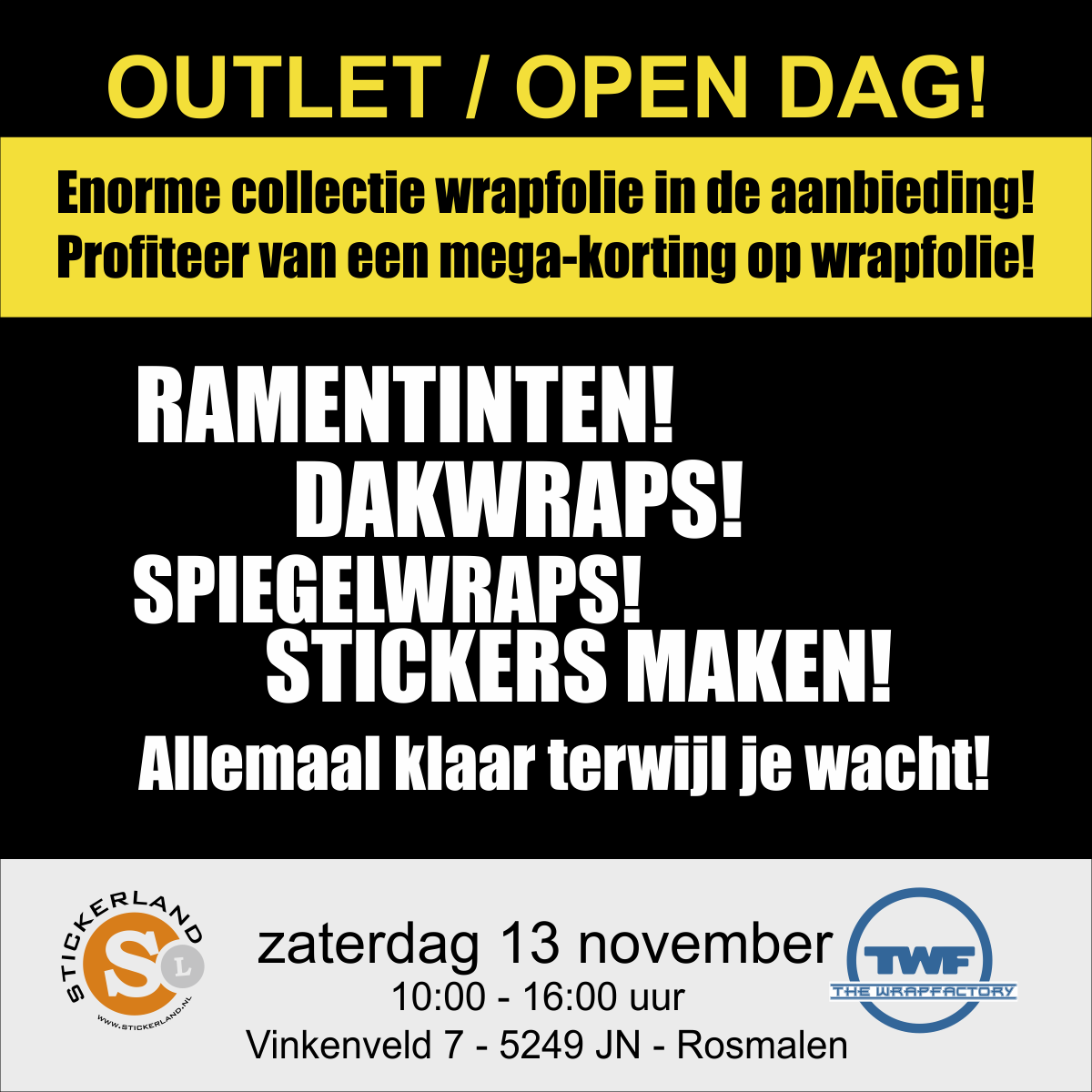 Daarnaast maken we ter plekke stickers voor je. En wil je je ramen laten tinten?
Kom maar op hoor. Onze tinter is vandaag gewoon aanwezig en we kunnen ter plekke je auto voorzien van tintfolie.
Dit geldt ook als je bijvoorbeeld je dak wenst te laten wrappen, of je spiegels. Of een spoiler... noem maar op.
De kleinere klusjes wrappen we op deze dag direct voor je!
Dit is je kans! Kom naar Rosmalen op zaterdag 13 november aanstaande. We zijn open van 10 tot 4 en deze actie is eenmalig. Hierna komt er voorlopig zo'n dag met zulke kansen niet meer.
Heb je net wat wrapfolie nodig tegen een speciale prijs? Kom langs! We hebben erg veel restanten wrapfolie in de outlet liggen voor je.
Heb je stickers nodig, maar wil je er niet op wachten? Dat kan ook! Wij maken stickers ter plekke voor je. Klaar terwijl je wacht.
Zet deze dag in je agenda, kom lekker naar Rosmalen toe en wij regelen het ter plekke voor je.